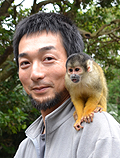 Kohki Suganuma

1971 Chiba product.

Through a cake maker, a salesclerk at fly fishing pro shop, a salesclerk at used personal computer shop, guide business starts from 2002.

Hokkaido outdoor guide qualification, Lake Shiretoko five authorization leader.

My hobby is fly fishing and a motorcycle and camping.

My motto "Penny wise and pound foolish"